Retail Showcases & Checkout Counters help to Create a great customer experience!
A display case is a cabinet with one or often more transparent tempered glass (or plastic, normally acrylic for strength) panels, used to display objects for viewing.   Also known as a showcase or display cabinet, you may see a display case in an jewelry store, museum, retail store, restaurant, or museum. A trophy case is used to display sports trophies or other awards.
A display case may be freestanding and movable on the floor, or built-in. Custom installed, built-in displays may be mounted on the wall, may act as room partitions, or may be hung from the ceiling.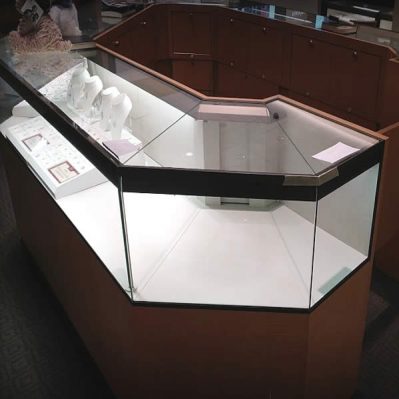 Counter showcases are designed to display objects through one side ("customer side") and have  access through the other ("clerk side").
Middle floor cases are used to display objects or goods from all sides, placed in the middle of the room for maximum visibility.
Wall Mounted Display Cases
Wall showcases are placed against a wall, where the products are displayed and accessed on the same side. A school trophy case is an example of a wall display case.
Need to buy display cases, but don't know where to begin?  it helps to think about how you plan to use them. Retail stores typically use a combination of counters, displays, and registers by placing many different fixtures into one modular configuration. In this scenario, employees work behind display cases to help customers and to complete transactions.
Glass cabinets with lots of shelves help to elevate best selling merchandise to eye level. Pedestal models are excellent choices for gift shops, while traditional curio and china cabinets add a classic touch to any home. These are just a few uses for display cases.
What kinds of features do glass showcases have to offer?
Display cases for customer interaction are, by design, counter-height affairs. It's where shoppers go for help with an item or to pay for their purchase. Display cases come in lots of styles and configurations. Some have glass-enclosed areas that are best for displaying merchandise, while others have no glass at all as is the case for a register stand or service counter. Access to items inside the cabinets can be either via the front or behind. For selling expensive merchandise such as jewelry, electronics, or other high-end products, you'll want a rear access display case for security.
Many free-standing display cabinets have an almost all-glass construction, allowing customers to browse 360°. Because of their multi-level shelving, these cases hold many more items than counter models – a great choice for gift shops and antique stores.
Pedestal styles are designed for highlighting a single object. These displays do an excellent job of spotlighting a priceless work of art or a small sampling of merchandise. Placing a pedestal display in the center of a room attracts the attention of visitors, whether it's a gallery-type display or a company showroom.
Showcases and retail display cases create an elegant look in your store and are an essential part of any type of business. Showcases and retail display cases are a great way to display products without sacrificing security.
The most common bullet proof glass is a single piece of 1.25″ to 1.375″ solid plastic. Acrylic can be drilled, cut, shaped and slotted to seamlessly integrate with the framework and surrounding architecture to create a quality bullet resistant system. Schmidt's Glass meets UL ballistic protection Levels 1-8.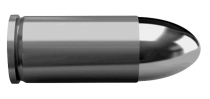 Lights for your Display Cases
Many cabinets are available with or without interior illumination. Halogen lighting used to be the norm but newer LEDs are making inroads. Thanks to their cooler operating temperatures and more efficient power consumption, LED lighting is the smart choice for retailers everywhere.
Lights come in strip, spotlight, and recessed styles, depending on cabinet make. Illuminated merchandise has the power to attract shoppers and make expensive items appear more desirable.